The "THEN and NOW" EXHIBIT and OAG EVENTS
during the month of MAY at THE BRICK
WILL BE RESCHEDULED…..

Celebrate OAG's 70th Anniversary
Exhibit "THEN and NOW"
May 2020 at Brick City Gallery
Help us plan OAG's 70th Anniversary Exhibit and Celebration!!!!
CANCELLED – The brainstorming meeting to plan our big 70th anniversary celebration and art show on Tuesday March 17th at 11:30am at the Braised Onion, 754 NE 25th Ave, Ocala is CANCELLED.
Please share your ideas with Lee and Lynn by phone and email.

Lee Asta and Lynn King co-chairs
Text or Call Lee at 352-223-7687
Call To Artists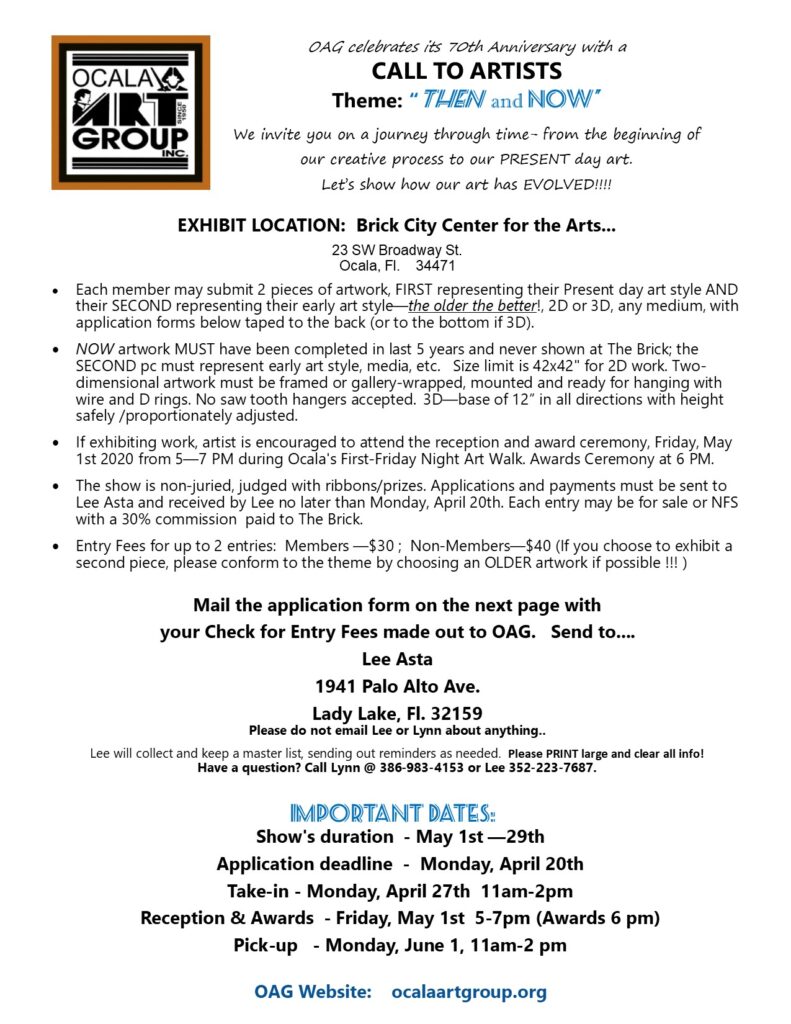 Ocala Civic Theatre Exhibit
December 30, 2019 – February 24, 2020
The Ocala Civic Theatre has invited OAG members to exhibit at the theatre again this year. For this exhibit, Members are to contact Sharon by email to register an award winning piece from a previous show within the last 3 years for the exhibition.
Fifteen works can be accepted, it is first registered to be accepted. Provide title, medium size and price if any.
Drop off for the exhibit at the Theatre is December 30 and
Pick up is February 24, 2020.