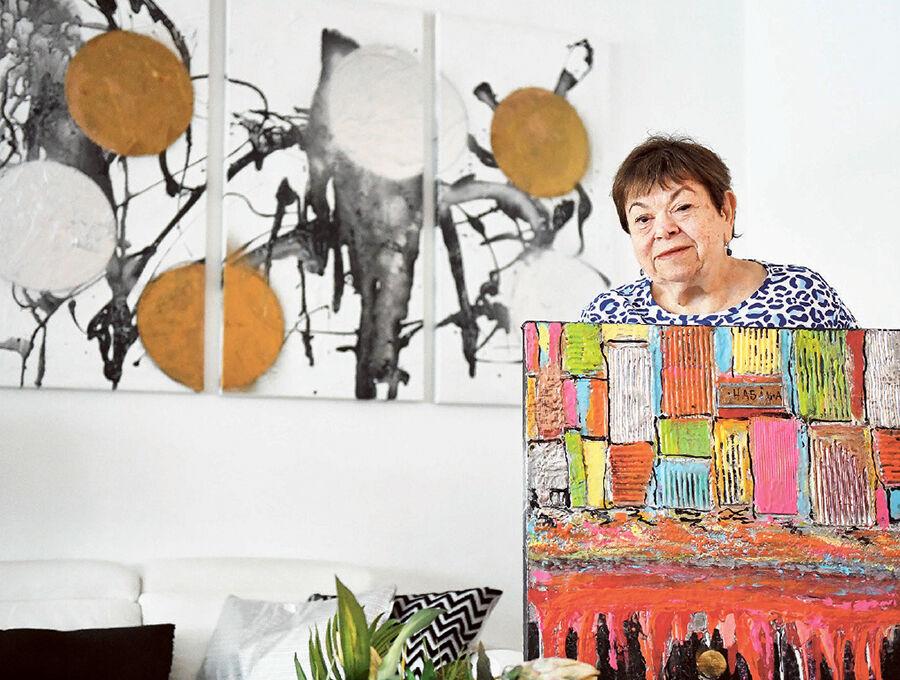 President of the Ocala Art Group Lee Asta, of the Villages Palo Alto, poses with her paintings in her home.
India Pantin, Daily Sun
Several Villages residents have spread their artistic wings, heading a few minutes north to join the ranks of the Ocala Art Group.
During her first year with the group, Lee Asta entered one of her paintings into an exhibition at the Appleton Museum of Art, where it won best in show. At the time, Asta was in New York visiting when the winners were announced.
When she came back to The Villages, she stopped in Ocala on the last day of the art show.
"I have to see my painting in a museum," Asta said. "That will be etched in my memory. It was cool."
The Ocala Art Group, entering its 72nd year of, existence, is made up artists from Ocala, as well as Leesburg and The Villages. "They brought an energy that only Villagers could bring to a group," said Asta, of the Village Palo Alto. "They do a lot of volunteering. If they were closer, they would be more involved in the workshops of the group.
It's hard to get them involved because they're so far away, said Asta.
She joined the OAG in 2003 and became its president in 2021. When she joined, she had a few years of making art under her belt. She started out in the Visual Arts Association during the late 1990s, leaning toward making mixed media pieces with acrylics.
With the OAG, she helped out in the hospitality department, working her way up to vice president, followed by president.
"The people that volunteer are just phenomenal artists through and through and they're caring," Asta said. "I've made such nice friends. We enjoy one another's company."
Since becoming president, Asta has met several local dignitaries, including Ocala Mayor Kent Guinn. It was the first time she had met any mayor.
"I shook his hand," she said. "That was impressive to me."
In February, the OAG rents out the Brick City Center for the Arts, where it hosts an art show, invites an outside artist to critique the paintings, and hosts an artist mixer co-hosted by the Marion Cultural Alliance. "Everybody came in and hung out," Asta said. "I'm looking forward to doing this again.
Iris Kaplan joined the OAG about a year ago after judging one of the group's shows during the coronavirus pandemic.
"I like the idea of being able to show art in some galleries outside of the Villages", said Kaplan, of the Village of Pine Ridge. "The group is smaller, more intimate."
Kaplan, who has created art for a good portion of her life, including as a fashion designer, enjoyed being a part of the Stroke of Genius exhibit in February, where works were inspired by masters of the art world.
"They just try to do interesting – creative shows," Kaplan said. "We're creating different, exciting venues so the artist can show their work at the best level." She also became a member of the OAG's board.
"I can contribute a lot more," Kaplan said. "It makes me feel like I'm doing some­ thing special."
For information on the OAG including how to join, visit ocalaartgroup.org. All members must pay a $35 annual fee.
"There were times when the group was struggling but it recovered," Asta said. "I'm seeing a good sign, but we need people willing to come help the group. The potential is so great."