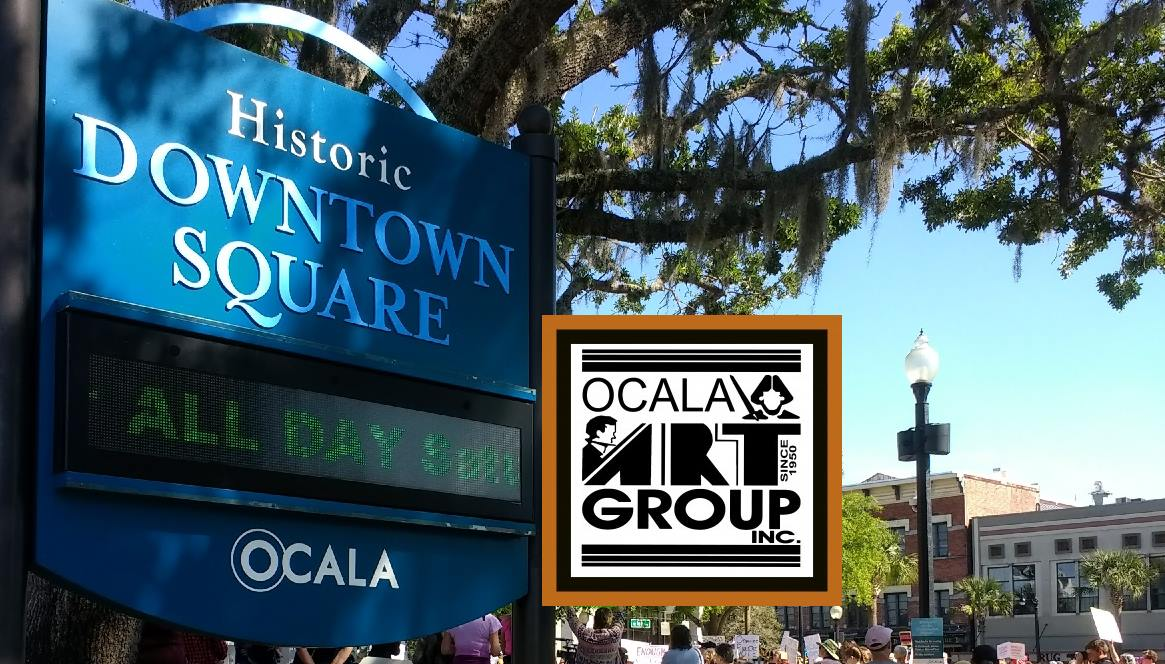 Celebrating 73 Years of Fine Art and Friendship
Message from President Lee Asta
Reflecting on last year's 3 R's, I realize that we have started creating an impressive LEGACY for upcoming OAG Generations. The First "R", READING, is our Artists Book Club which will celebrate its first anniversary this Nov. We have great plans developing to make it an even more unique book club and will bring you up to date when details are finalized at a Meeting and/or on our WEBSITE.
The Second "R", ROOTS IN OCALA continues to provide wonderful opportunities and challenges to obtain additional Venues in this corroborative OCALA community for OAG to show our art. We continue to plant the SEEDS for developing such VENUES and will announce them at Meetings when they come to fruition!!! Apparently, this is NOT ONLY a very SLOW PROCESS, but also very TIME CONSUMING for us. We continue to contact and connect with the powers that be, and then wait to hear back from them!
THE LAST "R", REFLECTING, leads me to these NEXT 3 AREAS we need to FOCUS on in the coming year: ROLES, RULES, AND RESPECT. I will start developing these areas in the next few President's Messages to make my Messages shorter.
I hope to see you at the next MEMBERS' MEETING at the BRICK at 11:00am on Monday, October 9. Our second Veep has a terrific Demonstration planned and I hope you can attend it!
Sincerely,
Leona (Lee) Asta, President
---
Below are our Upcoming Events in one List!
Scroll down to see more information.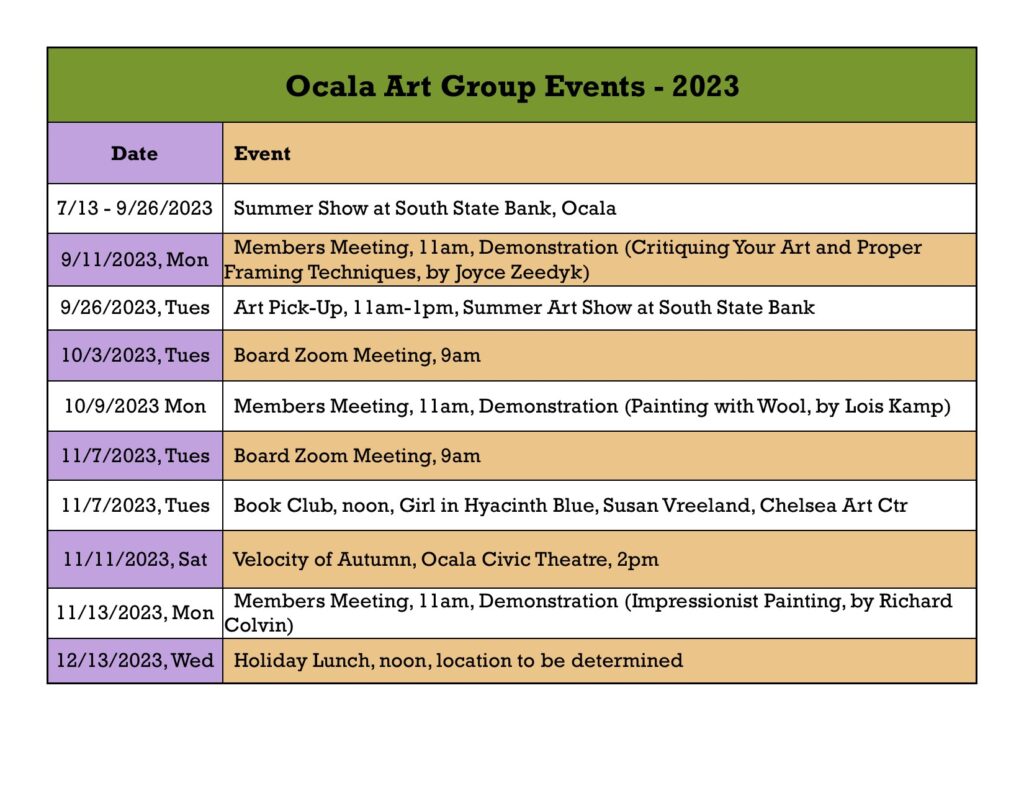 ---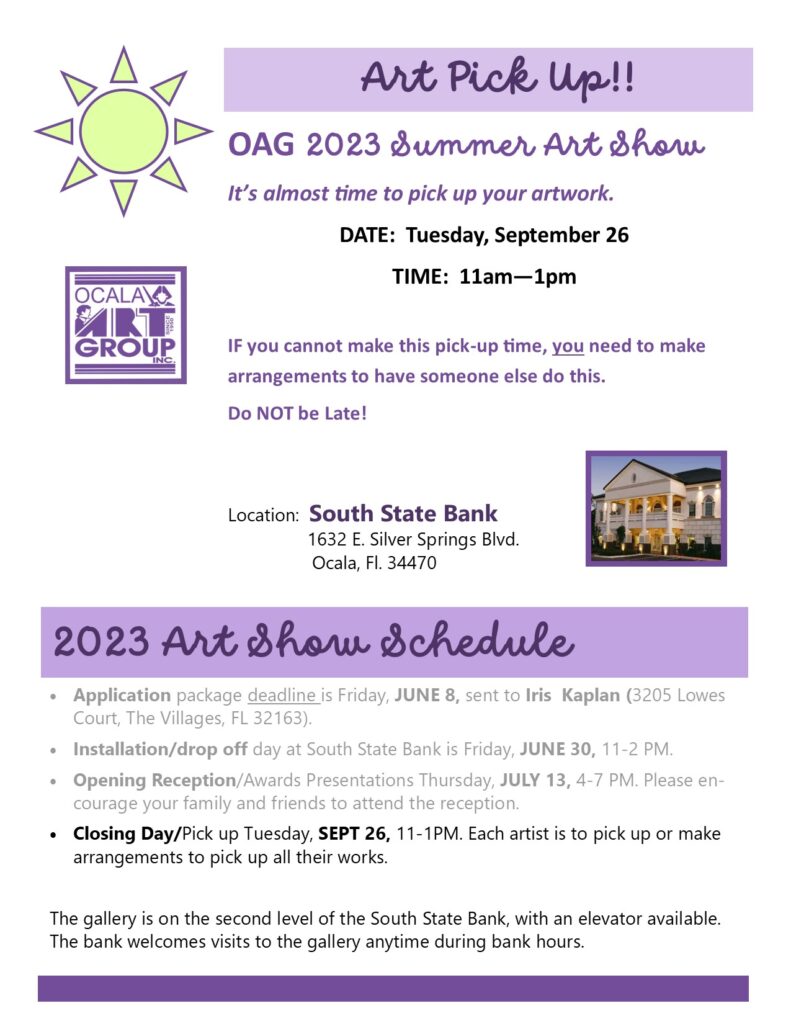 ---
See the Calendar page for more information.
Meetings & Programs
October 3, 2023
Board Zoom Meeting, 9am

October 9, 2023
Members Meeting and Demo, Painting with Wool, 11am, at Brick City for the Arts

November 7, 2023
Board Zoom Meeting, 9am

November 7, 2023
Book Club Meeting, noon at Chelsea Art Center Library, $5

November 13, 2023
Members Meeting and Demo, Impressionist Painting, 11am at Brick City Center for the Arts
Art-Ventures & Outings
November 11, 2023
Velocity of Autumn at the Ocala Civic Theatre, 2 pm

December 13, 2023
Holiday Lunch , location to be determined, noon

Exhibits &
Art Circuit
Summer Art Show
South State Bank Upstairs Gallery
July 13 through September 26, 2023
Art pick-up is on Tuesday, September 26, 11am to 1pm.
Come early!

Molly Maguire's
17 SW 1st Avenue, Ocala

Mesa de Notte
2436 E. Silver Springs Blvd, Ocala

Milano Italian Grille
5400 SW College Rd. Ocala
---
The Ocala Art Group was established in Ocala in 1950, making our organization the oldest of its kind in Central Florida. The artists have come and gone through the years, but the quality of the work and the enthusiasm of our members ensure that the arts remain alive and healthy, no matter the economic climate.
The Ocala Art Group is a not-for-profit educational corporation and our membership is open to all who share an interest in developing and promoting fine art. We provide programs, demonstrations and workshops that appeal to every art enthusiast, and we sponsor at least four art shows a year with all member participation.
MEETINGS
See Calendar page for details…
Membership Meetings are held on the second Monday of each month throughout the year at the Brick City Center for the Arts.

11:00 AM – Member's Meeting
Demonstration follows meeting
Optional- Go to Lunch as a group

Brick City Center for the Arts

Address


23 SW Broadway
Ocala, FL 34471

PARKING – "By Florida Law, vehicles displaying a disabled parking permit or license plate are allowed to park for free up to 4 hours in any on-street metered space, unless signage posted restricts the time to park."
SUBSCRIBE TO RECEIVE OAG EMAILS!
Contact Us

Ocala Art Group
P.O. Box 772834
Ocala, FL 34477-2834