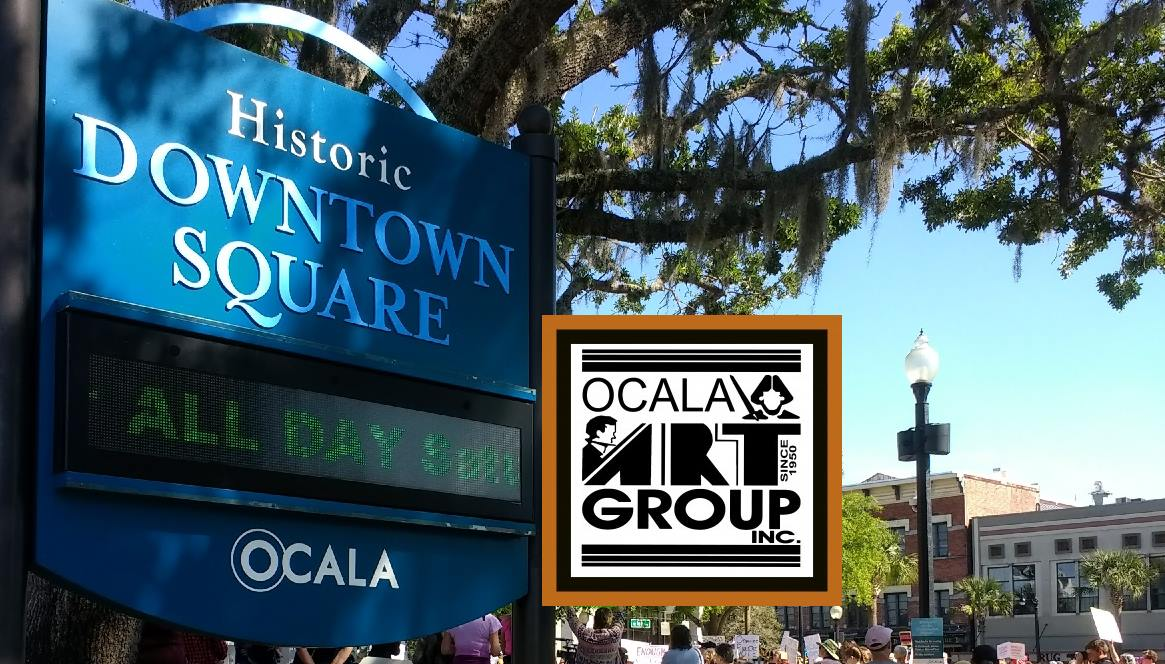 Celebrating 73 Years of Fine Art and Friendship
Message from President Lee Asta
Well, I cannot believe that I am finishing up another year (#2) as your President! I want to thank all the people who supported me and my sometimes-crazy ideas for OAG! We worked hard, but I do feel we had a BALL-getting to know one another! I WAS NOT ONLY blessed TO HAVE SUCH A WONDERFUL BOARD, BUT SOME REALLY AWESOME MEMBERS WHO STEPPED FORWARD TO HELP IN SO MANY WAYS TO GET US GOING WITH SO MANY WONDERFUL ART-VENTURES. PLEASE BE SURE TO MAKE YOUR RESERVATIONS WITH SUSAN FINK FOR OUR JUNE LUNCHEON AT BRAISED ONION. This luncheon will be something special because we will have an INSTALLATION of Officers and some fun planned by dear Cathy Burnside.
Recapping this last year's accomplishments is really easy following the 3 R's that I established last September as our GOALS for the coming year! First R for "READING" – is going full steam ahead!!! Our Artists' Reading Club had a very informative and stimulating session in May with another reading group from the Villages discussing "The Lost Wife" and are planning another joint session in the future. Cathy Burnside and Lee Asta shared some of their inspired art as well as a Guest, Sue Tribble with her beautiful pottery piece. Guest Ina Lidsky brought in pictures of children's art from a Concentration Camp that she visited. We had an emotional and wonderful time and wish more would join us in the future!!! Our next meeting is Wednesday, July 5th at noon (place to be announced) and we will discuss a classic book called "The Maltese Falcon". Lee Asta will host and should be contacted if you wish to make a reservation. Another R for "ROOTS" has been coming along so wonderfully-we almost can't believe it!!!!– (continued…)
… Your President, Lee Asta
---
Scroll down this page to see Upcoming Events. Then click on the event image for more information …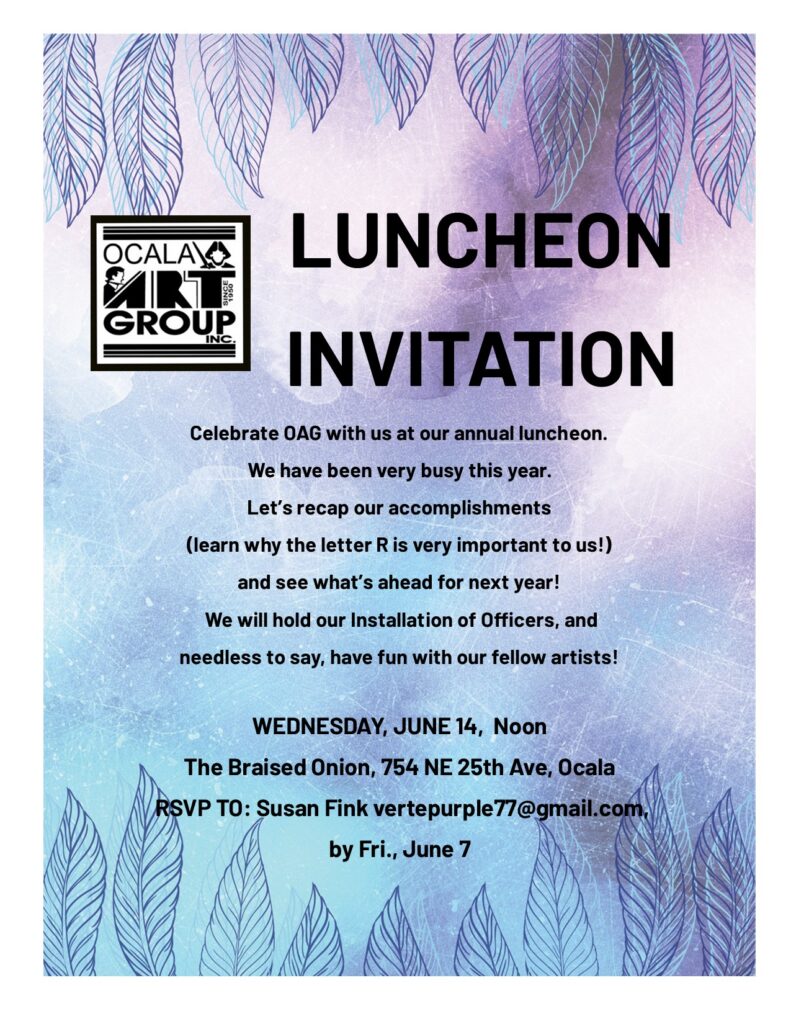 ---
Art-Venture Opportunity!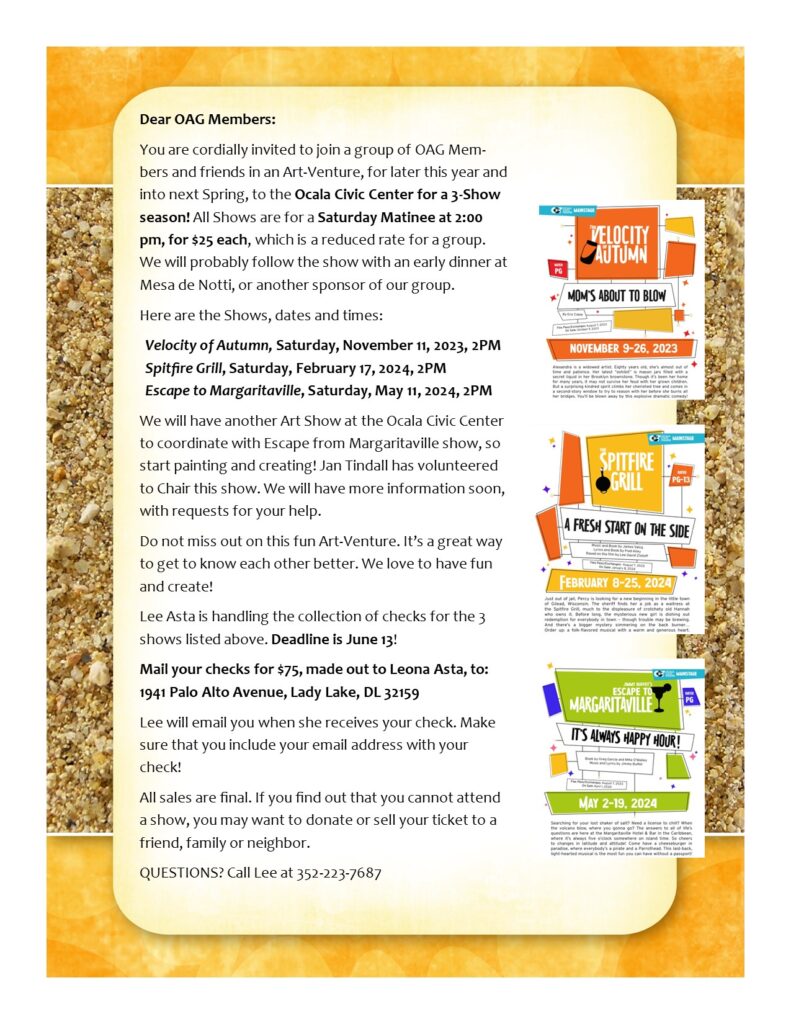 ---
BOOK CLUB!
More Book Club Information!

August 8, 2023, "The Maltese Falcon", by Dashiel Hammet, Lee Hostess
Art-Venture!
July 12, 2023, to the Appleton Museum of Art. RSVP Sue Fink. More information soon.
---
See the Calendar page for more information about upcoming events. Consider printing!
Meetings & Programs
June 6, 2023
OAG Board Zoom Meeting, 9AM
June 14, 2023
Lunch and Installation of Officers at the Braised Onion, noon.
RSVP by Fri, June 7 to Susan Fink.

August 8, 2023
Book Club at the Braised Onion, noon

July 11, 2023
OAG Board Zoom Meeting, 9AM
Art-Ventures
Upcoming trips:

(2nd Wed)
July 12, 2023, Appleton Museum

August 2023
Exhibits
Summer Art Show
South State Bank Upstairs Gallery
July 13 through September 26, 2023.
You can submit two art pieces for the application price of one!
Application deadline June 8!
Click here for more information!
---
The Ocala Art Group was established in Ocala in 1950, making our organization the oldest of its kind in Central Florida. The artists have come and gone through the years, but the quality of the work and the enthusiasm of our members ensure that the arts remain alive and healthy, no matter the economic climate.
The Ocala Art Group is a not-for-profit educational corporation and our membership is open to all who share an interest in developing and promoting fine art. We provide programs, demonstrations and workshops that appeal to every art enthusiast, and we sponsor at least four art shows a year with all member participation.
MEETINGS
See Calendar page for details…
Membership Meetings are held on the second Monday of each month throughout the year at the Brick City Center for the Arts.

11:00 AM – Member's Meeting
Demonstration follows meeting
Optional- Go to Lunch as a group

Brick City Center for the Arts

Address


23 SW Broadway
Ocala, FL 34471

PARKING – "By Florida Law, vehicles displaying a disabled parking permit or license plate are allowed to park for free up to 4 hours in any on-street metered space, unless signage posted restricts the time to park."
SUBSCRIBE TO OAG EMAIL NOTICES
Contact Us

Ocala Art Group
P.O. Box 772834
Ocala, FL 34477-2834