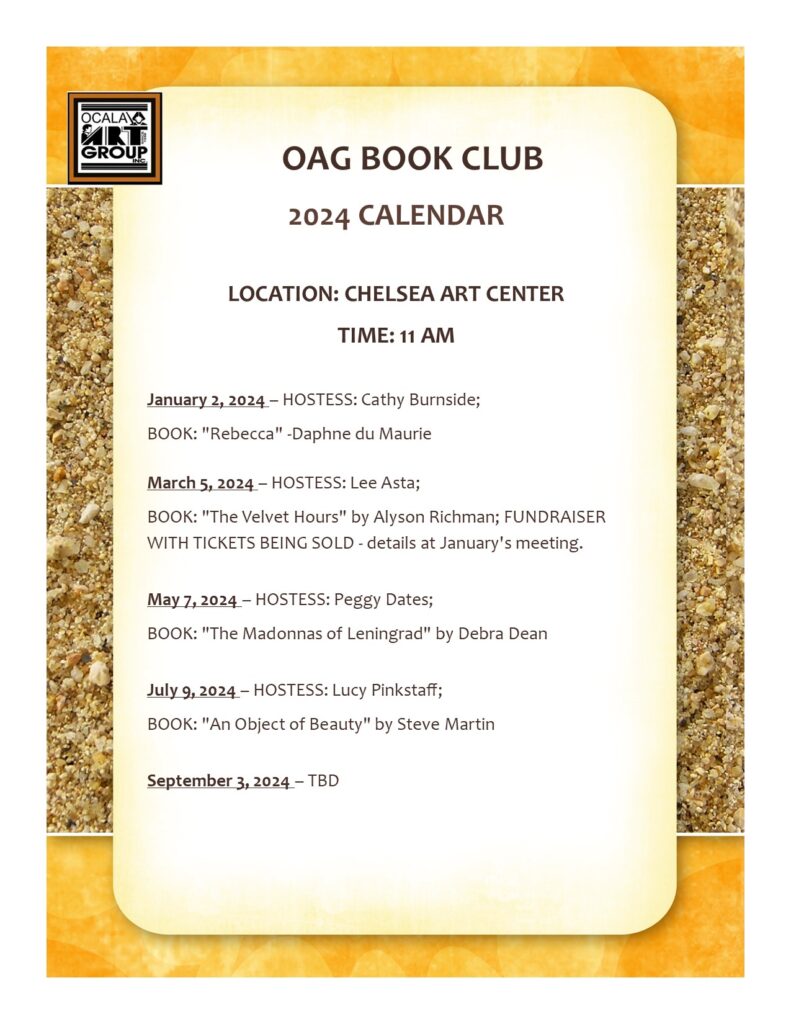 Tuesday November 7, 2023
Book: Girl in Hyacinth Blue
Author: Susan Vreeland
Location: Chelsea Art Center Library, 3305 E. Silver Springs Blvd, Ocala
Time: Noon, $5 donation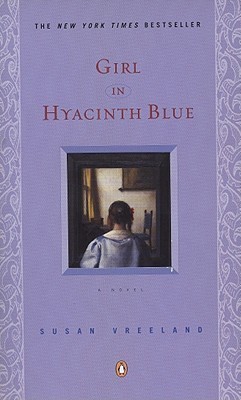 ---
Tuesday September 5, 2023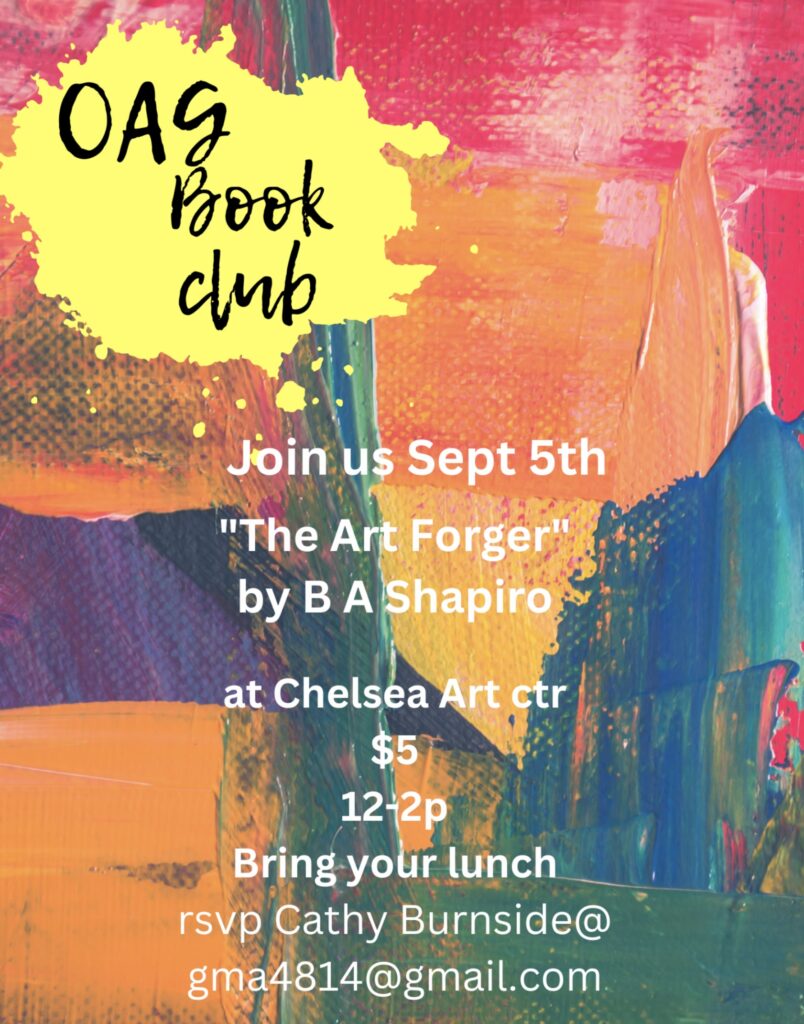 Host: Cathy Burnside (RSVP to Cathy)
Location: Chelsea Art Center Library, 3305 E. Silver Springs Blvd, Ocala
Time: Noon, $5 donation
Book: The Art Forger by B A Shapiro

Summary of Meeting: Lee surprised everyone with another of her inspired paintings based on the main character's painting series: "WINDOWS". This may have started Lee with other future WINDOWS art! We will see!!!
Although she tried, Lee missed taking photos of Lucy and Marge adding to our discussion with some real-life parallels, sorry!!! When we rated this book on a scale from 1-5 (5 is the BEST), we were relieved to find we enjoyed many aspects of this book and gave it a RATING of 4.3! Lee says Shapiro is another favorite author who writes about the art world!!! She has read several books by her now as a result!!!
OAG members (& friends) are invited to come to our next Book Club on the first Tuesday at noon in November!!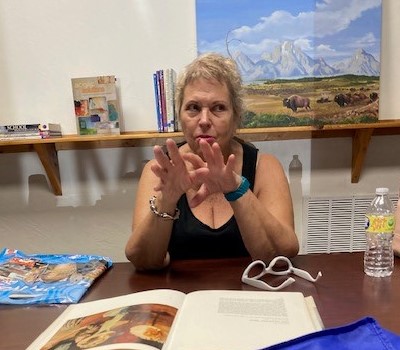 ---
Tuesday, August 8, 2023
Book –The Maltese Falcon by Dashiel Hammet
Host – Lee Asta
Location: Chelsea Art Center Library, 3305 E. Silver Springs Blvd, Ocala, Time: Noon, $5 donation
Well, Tuesday, August 8th affirmed the old saying:" GREAT MINDS THINK ALIKE!!!" Six OAG Members met at Chelsea Art Center to discuss the CLASSIC BOOK " THE MALTESE FALCON" by Dashiell Hammett from the 1930's. Members Lynn King, Debbie Ceres, Lucy Pinkstaff, Catherine Burnside, Ruth Dexheimer and Lee Asta were so busy discussing this book, that they forgot to take pictures of this enjoyable event at our NEW BOOK CLUB HOME: THE LIBRARY at Barbara FIfe's ChelseaArt Center in Chelsea Square Plaza.
It was unanimous that we DID NOT LIKE THIS BOOK and rated it about a 1.3 out of 5. We attributed this low score to many things including the dated vocabulary as well as characters that were described strangely and without emotions. We had all agreed to read the book as it was listed as "A CLASSIC" and, even though it was disappointing, we enjoyed our discussion. Several Members (CHEATED AND) SAW the Movie with Humphrey Bogart and thought that was decent!!!
WE LOVED MEETING AT THE LIBRARY and recommend to all who like to read, to come to our next Artists' Book Club at Chelsea at NOON on Tuesday, September 5th.
CHECK THE WEBSITE FOR DETAILS…AS LEE HAS READ THE BOOK FOR THAT MONTH AND HIGHLY RECOMMENDS IT AS BEING ESPECIALLY INTERESTING FOR ARTISTS!!!CATHY BURNSIDE WILL HOST THE SESSION TO DISCUSS THE BOOK: "THE ART FORGER" BY SHAPIRO.
BRING YOUR LUNCH OR WE CAN ORDER FROM THE PUBLIX ACROSS THE STREET. BRING CASH AND SINGLES TO PAY .$5.00 RENTAL FEE.
.THANKS—LEE ASTA
RSVP CATHY BURNSIDE PLEASE SO WE HAVE ADEQUATE SEATING!!!
---
Book –The Lost Wife by Alyson Richman
Host -Lynn King
OAG Members are cordially invited to attend a VERY DIFFERENT BOOK CLUB Meeting on May 2, 2023. Our OAG Artist's Book Club will meet with another Book Club from the Villages to discuss and critique the interesting and exciting novel, " The Lost Wife" by Alyson Richman.
We will meet for lunch and discussion at the Braised Onion in Ocala from NOON to 2:00. Besides discussion, attendees are encouraged to bring a painting inspired by this story. This is a very interesting story and should have a great discussion!!!!

Please RSVP to Lynn at [email protected] by April 27 for the lunch reservation.

Below is a summary by Lee of the May 2 Book Club Meeting:
What a stimulating afternoon we had today! We had two hours of interaction of sharing, talking and listening to a lively discussion led by Artist Member Lynn King, who led our session about "The Lost Wife" by Alyson Richman. This was a historical fiction book about Nazi Germany and a young Jewish Artist and how her art helped her survive in a Concentration camp.
What was so unusual, you ask? First was —who attended: 3 of our own members: Lynn King, Cathy Burnside and Lee Asta from OAG AND —5 other Readers from the Villages from Lee's "regular "Book Club. There was: Ina Lidsky, Sue Tribble, Anita Andersen, and Debbie Kehoe. (They said they were NOT artists, but we found out differently!!!)
Everyone brought something to the table to share and it seemed like we were old friends. They ALL loved the book and rated it 5 out if 5!!! They were all contributing with their thoughts about the book and we had 4 pieces of art that had been inspired by this story that were presented by the Attendees!
Next book and date will be announced next month for September. Our Visitors want to come back for another visit also! Here are some pictures from our vibrant group and some AMAZING art. Ina brought in greeting cards from a Holocaust museum that featured the art of children prisoners of a Concentration Camp! Beautiful and very touching!!!!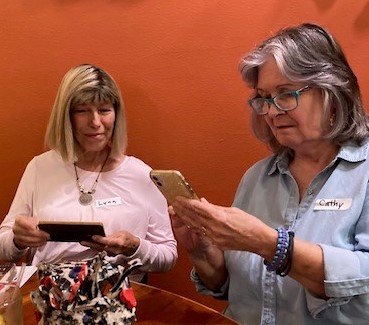 Read about 1st Book Club Meeting, Nov 1, 2022, click here.
Read about "The Last Van Gogh" meeting, Feb 7, 2023, click here.
DATE: Tuesday, MARCH 7, 2023
TIME: 12:00-2:00 pm
Location: The Braised Onion Restaurant
Book: THE MURALIST by BA Shapiro
RSVP to Cathy Burnside for luncheon reservations.
Please note: if you like to read but are unable to attend in person, members are welcome to read the book and call the Hostess with your rating of the book for that month!
This is historical fiction, a story about a young female artist, during the depression working for the WPA creating artwork. At the same time desperately trying to get her family over to America from Europe away from Hitler's rule. Characters include Jackson Pollock, Mark Rothko, Lee Krasner, Eleanor Roosevelt just to mention a few.
link to the interview provided by Catherine Burnside
HOSTESS: Catherine Burnside
---
AGENDA FOR MEETING:
1.) HOSTESS RECORDS RATINGS FROM 1-5 OF THOSE WHO READ THE BOOK AND DETERMINES THE AVERAGE FOR THE OVERALL RATING. (1 IS THE LOWEST AND 5 IS THE HIGHEST). ANNOUNCE AT END OF MEETING.
2.) HOSTESS READS A SHORT BIO ABOUT AUTHOR USUALLY PROVIDED AT FRONT OR BACK OF BOOKS OR ONLINE.
3.) HOSTESS ASKS ABOUT 5———10 QUESTIONS HE OR SHE EITHER CREATED OR FROM BACK OF THE BOOK….AND LEADS A DISCUSSION SHARING MEMBERS THOUGHTS OR ANSWERS OR EXPERIENCES WITH THE REST OF THE GROUP.
4.) AT END OF MEETING, AFTER ABOUT 3/4 OF HOUR OF HOSTESS LEADING DISCUSSION, THE AVERAGE RATING IS SHARED, THE NEXT MEETING INFO, BOOK AND HOSTESS IS ANNOUNCED AND ANY NEW BUSINESS CAN BE DISCUSSED.
---
PLEASE CONTACT LEE AT [email protected] TO LET HER KNOW YOU INTEND TO ATTEND FOR LUNCHEON RESERVATIONS.
A Note from Lee Asta
DEAR FRIENDS,.
WELCOME TO THE FIRST OFFICIAL OAG ARTISTS BOOK CLUB!!! THIS IS NOT GOING TO BE LIKE SCHOOL CLASSES…NO GRADES OR REQUIREMENTS! JUST LIVELY DISCUSSIONS!!!!
WE WOULD LIKE EACH MEMBER TO BE A HOSTESS ONCE A YEAR AND YOU WILL SEE HOW EASY THAT WILL BE!!
HERE IS A LIST I STUMBLED UPON THAT HAD SOME REALLY INTERESTING TITLES. I PERSONALLY LIKED THE FACT THAT THERE WERE SEVERAL WELL-KNOWN CLASSIC WRITERS…DAPHNE DE MAURIER FOR ONE…THAT I HAVE NEVER READ!!!
HERE IS A LIST OF POTENTIAL ARTIST READINGS FOR OUR BOOK CLUB SELECTIONS. YOU ARE ALSO FREE TO FIND YOUR OWN RECOMMENDATIONS. I LOOKED UP THE FIRST TITLE AND LIKED ALL THE REVIEWS, ETC. SO THAT IS MY CHOICE FOR OUR NOVEMBER 2022 BOOK CLUB REVIEW.
WE WILL HAVE OUR MEETINGS EVERY TWO MONTHS SO WE DONT GET OVERLOADED WITH ALL OUR WORK AND FUN!!!
THERE WILL BE NO PRESIDENT OR OFFICERS AS THIS IS PART OFG OAG. WE CAN CHOOSE TO INCLUDE A REVIEW OF THE BOOK ON OUR WEBSITE WITH A PIC OR TWO OF OUR MEETING.
LASTLY, WHILE I LOVE THE IDEA, I AM NOT REQUIRING ITl WE MAY CHOOSE TO BRING IN A PAINTING INSPIRED BY EACH BOOK? ..NOT LARGER THAN 12″ X 12″.
IF YOU CAN READ THE BOOK, BUT CANNOT ATTEND THE MEETING, YOU MAY SEND LEE YOUR RATING FROM 1-5 (1 IS THE WORSE RATING) WITH OR WITHOUT A SHORT SENTENCE TO EXPLAIN WHY YOU RATERD IT THAT WAY….OR not INCLUDE ONE AS THE RATINGS ARE PRETTY SELF EXPLANATORY!!!
THIS WILL BE ANOTHER WAY TO EDUCATE OUR MEMBERS AND PROVIDE SOCIALIZING FOR THEM!!! COME ALONG AND BRING A FRIEND. CONTACT LEE SO SHE CAN MAKE RESERVATIONS AT THE BRAISED ONION FOR LUNCH (FROM THE MENU—YOUR CHOICE).
CAN'T WAIT TO START THE BOOK…BUT I HAVE TO WAIT TILL ITS A LITTLE CLOSER TO THE DATE, SO I DONT FORGET THE STORY AND THE CHARACTERS!!!
SEE YOU THEN!!!…LEE ASTA, OAG PRESIDENT