NOTE from Jan Tindall
It has come to my attention that many members aren't aware of the importance of the bats. They serve a two-fold purpose: one is a gift to the Civic for their decor and the second is that we can sell the bats at that first weekend performance and the Civic gives the money to us as a group. What a great and fun way to make money for our club to use as we please! We are hopeful that we can establish a good relationship with The Civic Theatre and perhaps get a yearly exhibit there. They also want to use pictures of bat-painting parties in their promotional materials so really turn out for these and show what a fun and active group we are! By the way, the bats are fun, simple projects like clip art and not great works of art. Anyone can do this! Email me ([email protected]) to let me know which party you intend to sign up for so I can plan accordingly. We hope to also have one at The Civic, but no date yet for that one.
Thanks, Jan Tindall
More info.. please READ ON…!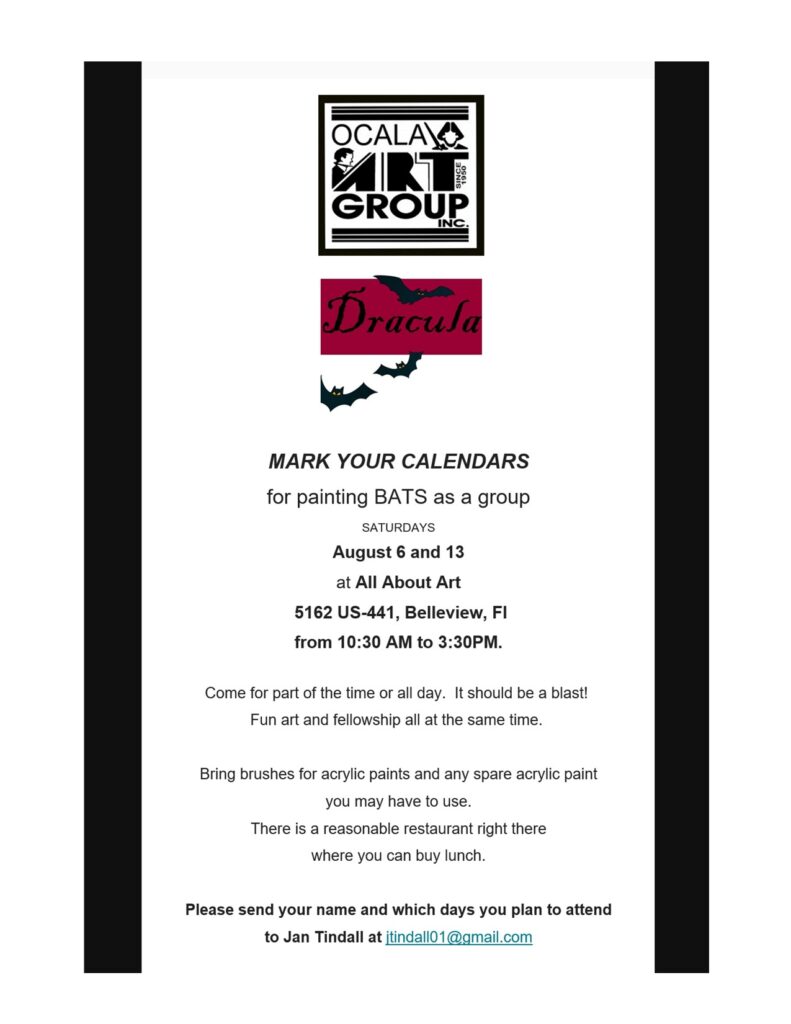 Several of you have been worrying about how we are going to paint bats. This is going to be a BLAST!  The bats will hopefully all be cut out before painting days. I've enclosed a few rough sketches (below) to get the creative juices flowing. These should be simple but well done. Remember that the bats are black and colors are painted on.

We will be using glow-in-the-dark paint for at least the outside bats (how cool will that be!).  If anyone else has spare acrylic paint that they could donate, it would be appreciated. Bring your own brushes and have a ball!
And here they are…. our first bats!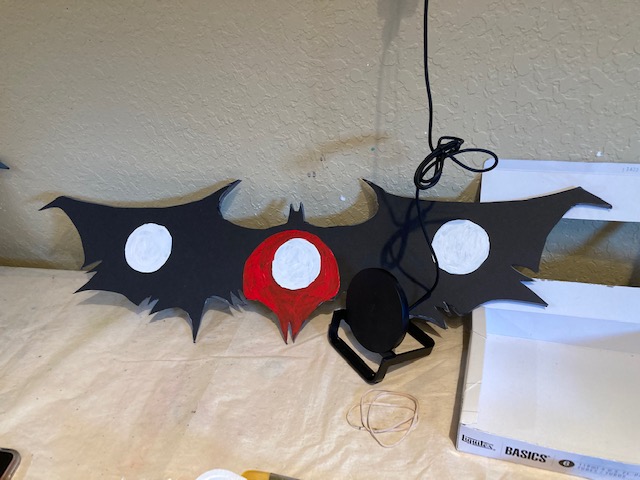 FROM LEE ASTA – August 6th at All About Art in Belleview was our very first "Going Batty" session. Thanks go to Cathy Burnside, her Granddaughter and her Granddaughter's boyfriend, who cut out 30 Bats for us to decorate!!!! Thanks go to Donna Damato who owns AND DONATED the beautiful Belleview facilities—for doing all our "OUT OF THIS WORLD "Batty creations at All About Art in Belleview!!!!! If you stop by there to see it's fantastic art…Donna has recently joined OAG, please thank Her for this "kind act" to help us out with this very challenging assignment!!!!! Thanks to Jan Tindall for setting this whole "Dracula Project "up! Believe me: there is a behind the scenes story to go with this project!!!
Check our website to see the Call to Artists for the particulars for the Challenge of our lifetime: creating DARK paintings inspired by the Ocala Civic Theatre's Play "Dracula". Contact Jan Tindall to find out if we are invited to help out painting the scenery for this show AND LASTLY, watch for details to attend the October 23rd, Sunday, 2:00 Matinee. Send a check made out to Lee Asta for $30, so she can purchase tickets for us to sit together (or near) at this Performance. Of course, we will also be eating somewhere (before or after the show). Send check for $30 made out to Lee Asta at 1941 Palo Alto Ave., Lady Lake, Flo. 32159. Deadline is September 1st as tickets sell fast!!!! DON'T miss out on an "out of this world" experience!!!! AND……Thanks to our First Veep (Iris Kaplan), we may have future Projects involving Music n Murals!!!!! Do Not Miss September's Meeting at the Brick for more exciting developments!!!! The stories are unbelievable!!!!! See you Wednesday for our Leesburg ARTventure!!!!!          
Your President,
Lee Asta
I need someone who likes to make phone calls …. call me: 352-223-7687….it is really simple!!!!💜💜😍
Sent from my iPhone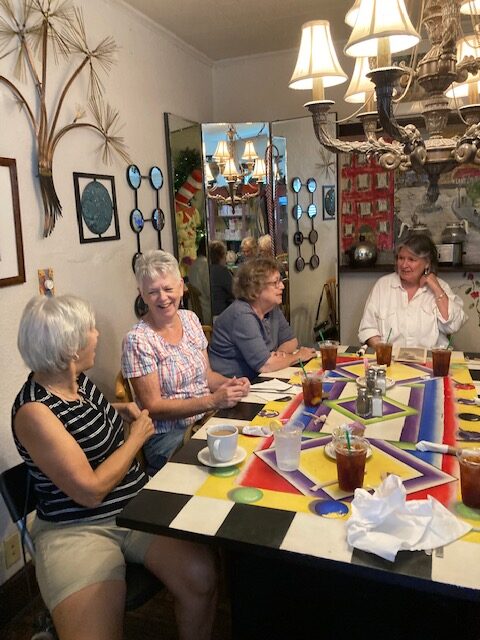 Attending delicious lunch are:
Left to right: Gail Bannock, Jan Tindall, Dori Sullivan, Cathy Burnside, Heather Doherty, Iris Kaplan, Jan Kiszonak and the photographer, Lee Asta. One latecomer was left behind in the classroom to work on her Bats. As we were going out to eat, she walked in!!!  …. Our dedicated member: Marge Picard stayed and worked on her Bats!!! Thanks Marge!!!!
Check website for October's Dracula inspired fine arts DARK Show at Civic Theatre. We have potential to possibly hang this show afterwards at another venue. Keep your fingers crossed AND Stay tuned!!!!! Lee