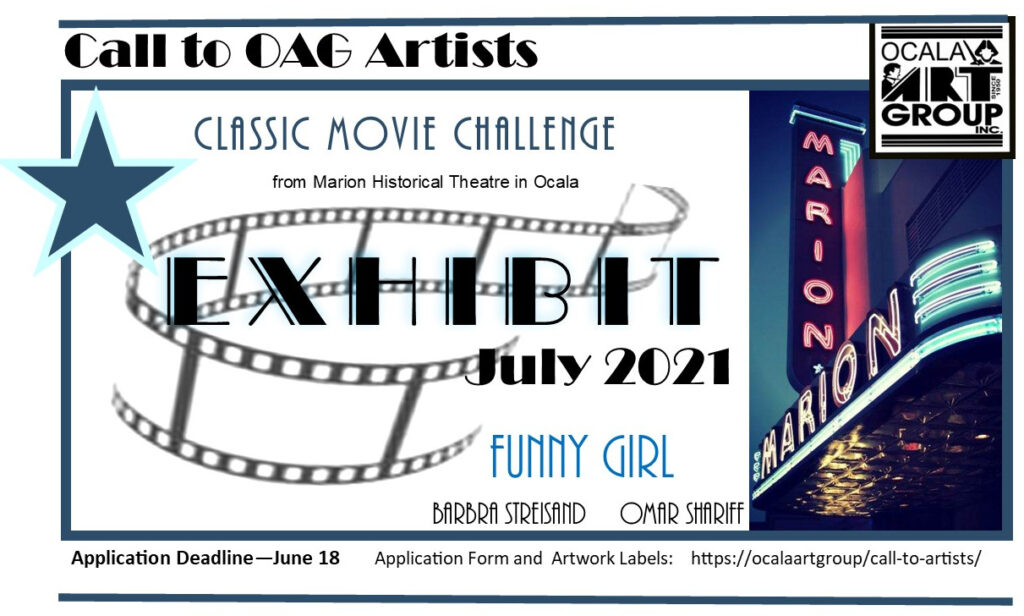 You are being challenged to create an original 2D picture inspired by the Featured Classical Movie each month at the Theatre. You may participate for any or all months.
The movie for July 2021 is "FUNNY GIRL" starring Barbra Streisand and Omar Shariff. The artwork will be up for sale for the entire month. This looks like it will develop into a wonderful avenue for exposure to the fine artists from our group.
SPECIAL SHOWING!!!! FUN EVENT!!!
The Marion Theatre has invited all of our artists to see the movie Funny Girl Wednesday, July 14th at 1 PM. There will be a box lunch that can be purchased with your entry fee . The box lunch will be catered by Stellas. The movie is free for all currently paid OAG members, box lunch @$12.00 and the entry fee $10.00. Please send your requests to Jan Tindall. Her info is on the Application Form. We are looking forward to continuing a creative experience.
For details, download the three files below.
Application Deadline June 18, 2021. Application Fee- $10, payable to Ocala Art Group (OAG)
Mail Application Form and Check to Jan Tindall (see form for address)
EXHIBITION SCHEDULE – MARK YOUR CALENDAR
Application deadline: June 18, 2021
Art Drop Off: Wednesday June 30, 2021, 11 am to 1 pm at Marion Theatre Lobby
Art Pick-up/ Drop-off for next month: July 28, 2021
11 a.m. to 1 p.m. at Marion Theatre Lobby.
Event Chairperson- Iris Kaplan
Applications Chairperson- Jan Tindall
Marion Theatre

Address


50 S. Magnolia Avenue
Ocala, FL 34471

---