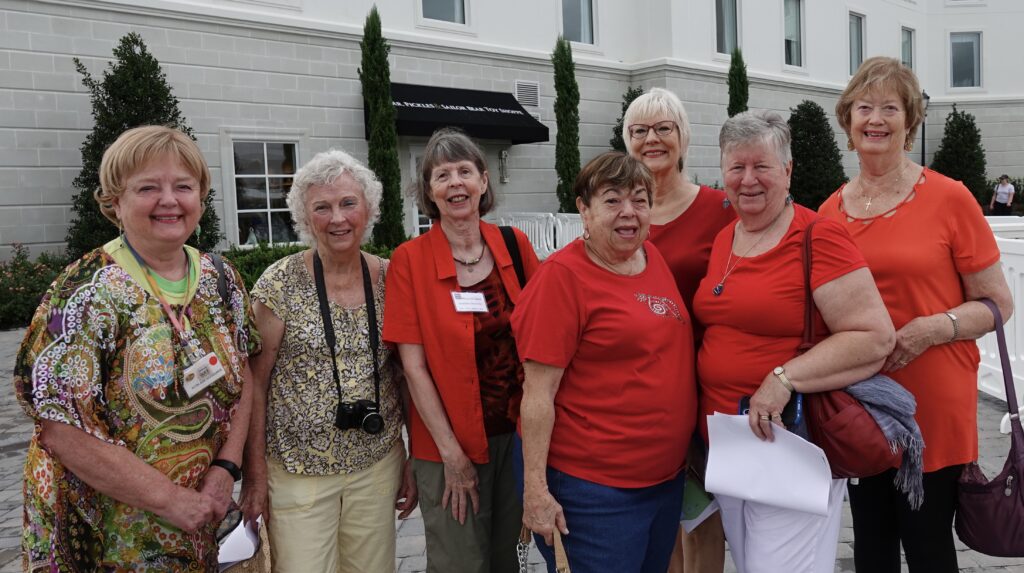 Well…… August 4th finally arrived and so did the torrential rain that followed!!! Being the staunch Members of OAG, we arrived at 10 A.M. with rain gear, water and other supplies (which we left in the car…A MISTAKE that we learned later on!!!)
The Equestrian Hotel was better than we had heard and did not disappoint any of us!!! The Architecture was GRAND! The Interior Decorating was GRAND! The art was GRAND! The horses we saw were GRAND! Everything was GRAND!!!!Our lunch at the lovely Italian cafe was GRAND too!
Everyone who could do so, came in the proper RED (or near red) shirt so we could spot them easier from afar! The whole experience made us feel that we were on a luxurious INTERLUDE!!!
WE left there feeling VERY GRAND INDEED!
Unfortunately, we set out with 2 missions which we could not complete: First, we were looking for our friend GiGi who is working there at one of the Gift Shops (we never found her!!!). Second, we were wanting to see if this would be a PROPER VENUE for one of our POPUP art shows? (Some of us were so IMPRESSED by the quality of the displayed artwork -which were all beautiful and elegant DOGS- that we found ourselves somewhat intimidated!) SO OUR CONCLUSION WAS: we will have to come back another time to reassess this location and try to find GIGI!!!
PS…SSSSSHHHHHH: I AM NOT ALLOWED TO DIVULGE IT, BUT ANOTHER SECRET WAS DISCOVERED ABOUT ONE OF OUR MEMBERS!!!!!
Click below to enjoy the video of our Grand Art-venture!
Lee
Photos of the event courtesy of Joanie & John Ford and Lee Asta.