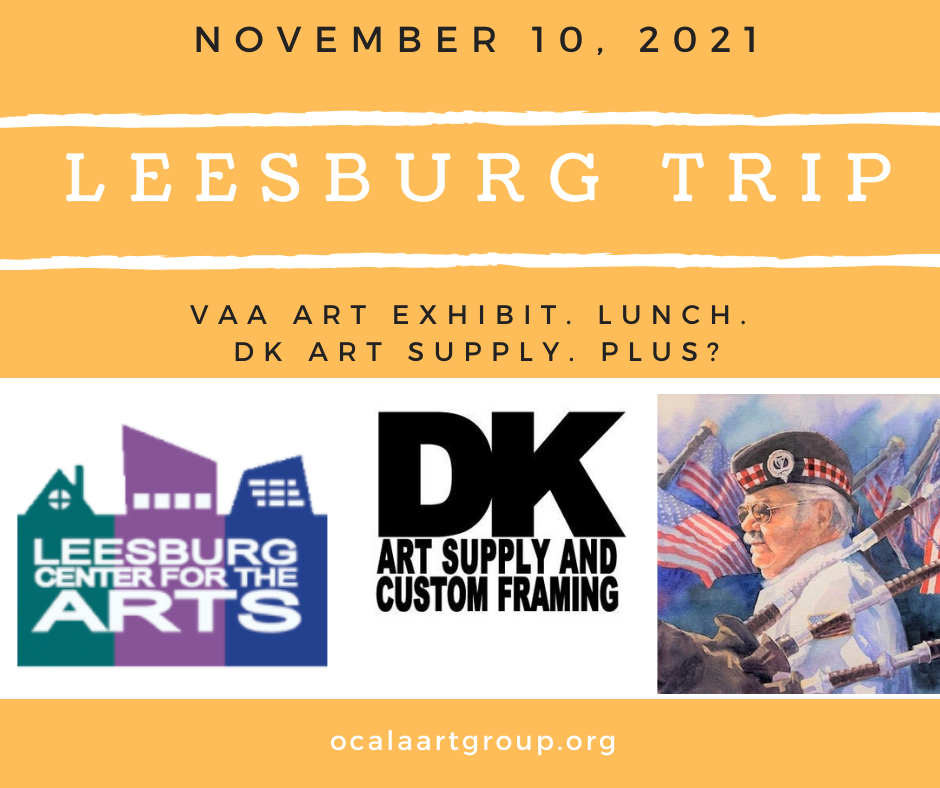 Photos of the Art-Venture Courtesy of Jan Kiszonak
Article contributed by Gail Bannock, program coordinator
What a great time we had on our OAG Trip to Leesburg today! Although only six of us were able to attend, we had a wonderful time! Some of us first stopped at the Villages Art Workshop in Summerfield and were amazed at the wonderful state of the art classroom, workshops, gallery space and art supply store carrying the basics they have at their location. We then proceeded to Hacienda Recreation Center in the Villages where President of the Visual Arts Association, Catherine Sullivan met us and discussed the art show on exhibit. It was such a wonderful selection of creative work that the artists painted after being inspired by one of the masters. Lunch followed at the Cracker Barrel in Leesburg which we all enjoyed. We then proceeded to DK Art and Frame Gallery. Dennis met us and helped us out with our art questions, purchases and entertained us as usual! Our final stop was the Plaza Lincoln Gallery where Kelley Batson-Howard met us and gave us some background and information about her Lump Family Portrait Show on exhibit. We were all in awe of her thought process, colorful canvases and fitting titles of her show. We're all looking forward to the next OAG trip that we will be planning shortly for March 2022.
---
Article contributed by Lee Asta, President of OAG
Well, for those of you who were not able to make this trip, I hate to rub it in but: YOU MISSED A BEAUTIFUL DAY!!!
Thanks to the efficiency of our terrific SECOND VICE PRESIDENT, Gail Bannock, , our schedule proceeded like a well-oiled COG!!!
Gail set up Car POOLS so members could easily travel from Ocala, to Belleview to Summerfield on to The Villages and FINALLY, on to Leesburg.
The first group set off from Ocala to arrive at the Village Art Center in Summerfield. Jan Kiszonak and Ruth Dexheimer met Gail Bannock and they received a mini tour by OAG Members Wanda Boyd and Bev Hennessey. They found the physical set up of the large Workshop studio so impressive, they said it made attending a Workshop there very appealing. Lynn, Gail and Lee are meeting there with the owners to see if we can work out some future happenings at those facilities.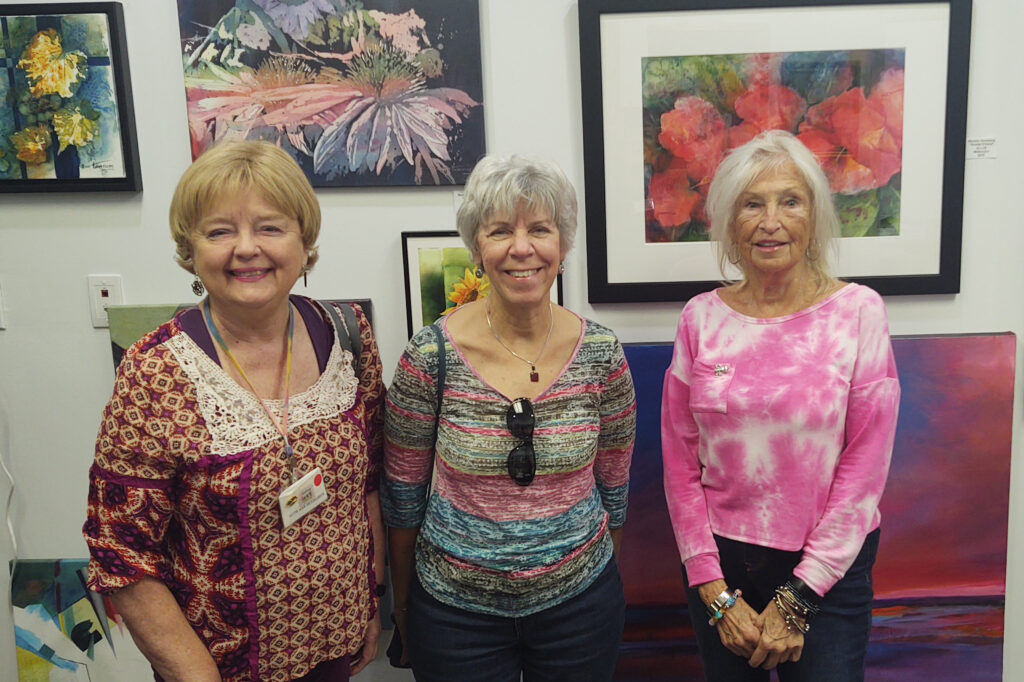 From there the 3 Members met Lee Asta and Member Catherine Sullivan at La Hacienda Recreation Center in the Villages where Catherine Sullivan gave some interesting details about the show hanging there, "INSPIRED BY THE MASTERS" which is the Model for our February Show coming to the Brick Center for the Arts. We took some pictures to show you all in our Newsletter. The show is hanging till beginning of December and is OPEN TO THE PUBLIC without any ID! Try to see it for yourselves as we were really impressed with it!!!
From there, four of us left for Leesburg and met Linda DeLuca at Cracker Barrel for a delicious lunch and some quick shopping in the Store, which was beautifully decorated for Christmas and other HOLIDAYS!!!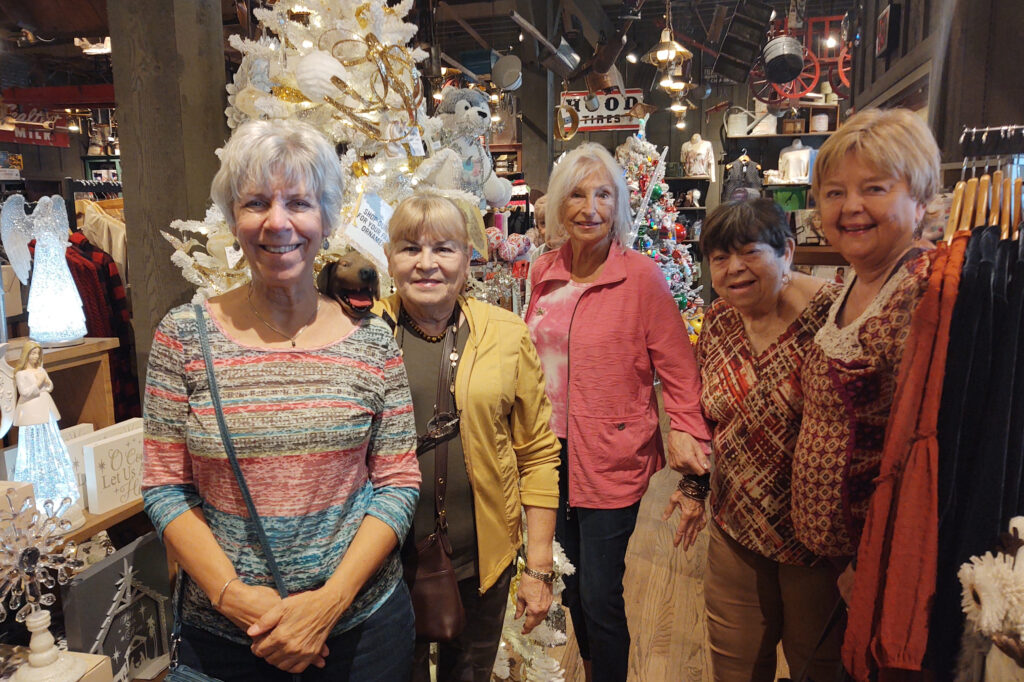 Gail kept us ON SCHEDULE so we arrived on time to met up with Dennis and his Mom Gail at DK Art and Frame Supplies in Leesburg. That shop is just a PLETHORA of ART GOODIES and Dennis was very patient to explain all the cool things we had questions about.
The final leg of our beautiful adventure occurred at The Leesburg Plaza Lincoln Gallery in the Lincoln Car Dealership! I DIDNT EVEN SEE THE CARS! The art by our OAG member Kelley Batson-Howard was so mesmerizing that I couldn't look around, but stayed totally focused on it!!!! Kelley graciously spoke about her art and the meaning of the Theme title: "Lumps". It was so lively and fun and inspirational! I couldn't wait to get home to paint some LUMPS!
Well, as we said our goodbyes, our small group reiterated the good time we had together and we already started planning another Adventure: possibly with some journal painting (and of course) some lunch!!!!
Watch for what we are planning next…….and try to join us for another Art-Venture! Thanks, Gail, for all your hard work!!!!